"Michael McKean and David Lander: Prime Time's Dumbest Duo Is Just an Act"
PEOPLE Weekly--January 30, 1978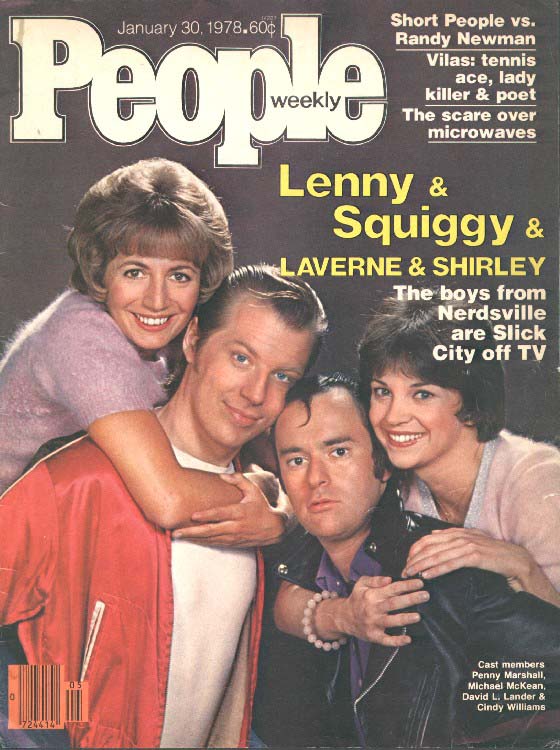 Admirers with clout never hurt, so when Rob (TV's "Meathead") Reiner and his wife, Penny Marshall, invited unemployed actors Michael McKean and David L. Lander home for a party and commanded "Do 'em," the boys were on. "'em" were a couple of blue-mouthed greaser characters named "Lenny" and "Ant'ny" that McKean and Lander, both now 30, had created back in college 12 years earlier. Fortunately for them, a Happy Days spinoff was in the works and most of its formative figures were at the party--not to mention in the family. Penny's brother was to be co-creator and executive producer, her dad producer, and she herself was to play a character called Laverne. Cindy Williams was cast as costar Shirley, and the McKean-Lander team was hired as writer consultants. They wrote themselves into the premier as Lenny and Squiggy (Ant'ny was renamed Squiggmann to add a Teutonic touch to the otherwise disproportionately Italian cast). "The show looked like a disaster at that time," McKean marvels now. "I had never been involved in a network show before and didn't know something that seemed to be a mess could end up an enormous hit."

That's one of the few understatements of TV history. Those bubble-brained beer bottlers, Laverne and Shirley, and their even dimmer Shotz Brewery truck driver neighbors, Lenny and Squiggy, are as of their second anniversary this week the No. 1 series in TV. Though they themselves have sometimes been at loggerheads on the set, Penny and Cindy are in accord about their second bananas. "I don't know any better guys to work with," says Marshall. Williams calls both "terrific actors. That's why they convince people they're creeps."

Cindy, of course, knows Lander a bit better than McKean, since "Squiggy" squired her briefly in real life just after the premier. "We were in love with eachother for a good two weeks," says Lander. Both decided that a studio romance was "too messy," he adds, "not only for us but for the rest of the cast." Now platonically close, Lander calls Cindy, who then took up with a sculptor, "one of the greatest actresses I know." Equally effusive about Penny, he calls her "very understanding and sensitive to people's feelings. It breaks my heart that she doesn't realize how much she's worth as a person." Lander even goes out of his way to squelch rumors of dissension over nepotistic Marshall law--the latest was the hiring of Penny's sister as associate producer and casting director.

The boys are busy enough protecting their own characterizations. McKean notes that the original and "completely obscene" Lenny and Squiggy had been "considerably toned down for TV--unrecognizably so." They wondered, says David, "Can we be clean and continue to be funny?" The Nielsons have decreed that they can, due largely to the fact that Lander and McKean constantly rework their scripts. "If we left it up to the writers," carps McKean, "our characters would wind up being as bland as Ralph and Potsie on Happy Days, except with funny voices and ducktails." Lenny, he says is "a dead ringer for a guy I knew. But you couldn't laugh to his face because he'd kill you. He was very strong and very unprincipled." Likewise, says Lander: "Squiggy is a combination of people I knew and despised. You have more freedom playing people you hate. There are people like them who haven't outgrown their silly dreams," he says. "Laverne and Shirley are more intelligent, but they haven't grown up either. Squiggy looks in the mirror and thinks he's the handsomest guy in the world. These are the kind of people who would idolize the Fonz. He's their man."

Lander, who was born David Landau in the Bronx, would be mistaken for neither. (He changed his name twice, the second time adding the middle initial, to avoid conflict with other actors.) "I was born out of comic relief," he says. "My brother was very serious and very bright. At four he had memorized Bach." So high school teachers Stella and Sol Landau planned a playmate to lighten up his life. "I hope I cheered him up," says Lander, whose brother, Robert, is now an opera singer. "If I hadn't, there's no telling how many kids my parents would have had." Except for a brief period as a child when, Lander recalls, he wanted to be "a killer" like on TV, "I always knew what I was going to do." Michael McKean, son of Gilbert McKean, one of the founders of Decca Records, and librarian Ruth, knew too by the time he was in high school on Long Island's North Shore. Lander's and McKean's trajectories crossed when they both arrived at Pittsburgh's Carnegie Tech in 1965 to study acting.

Insomniacs both, they thrashed away nights thinking up comedic attacks on "tacky showbiz and cornball comedians," says McKean. They even made up a sitcom called Widow and Son, about Corky Widow and his pop, which they performed onstage with a laugh track. "Talk about history repeating itself before it happened," exclaims McKean. After a year of cutting morning classes they were asked "not to come back," as McKean delicately puts it. Lander, though, went on to NYU and crafted one-liners for Walter Winchell and Earl Wilson before splitting for Hollywood in '68, where a college friend, Albert Brooks, had put him in touch with Rob Reiner. The two clicked and did some TV writing together, and Lander thought, "Wow, here I am only 19 and writing for television. But boy did the drought hit fast." Reiner wound up with the Smothers Brothers, Lander at an answering service. Starving off boredom with funny voices, he attracted the attention of a client who had connections with the Credibility Gap, a radically satirical radio show.

McKean had meanwhile also himself enrolled in NYU. He had drifted briefly into drugs ("not to the point of real danger") and into the late-'60s protest movement. "I did a lot of hooting during the hoot period," he says. "I was the guy with the guitar in the march on Washington." Then he met a girl from Los Angeles, Susan Russell, whom he followed out to the coast in 1970 and married later that year. There he was reunited with Lander, also married by that time, and joined up with the Credibility Gap. The show went on the road in '72, and Lander and McKean went with it. "There was just one giant 'huh' from the audience," says Lander, who refers to their itinerary those years as the Bermuda Triangle.

Then came Laverne and Shirley. "When we started we were all kids," says Lander. "Ratings were like a foreign language to me." Stardom was also a shocker, and it undid David's seven-year marriage to photographer Thea Pool Lander. "That success faced us with an adjustment we couldn't make," he says. "Suddenly she became Squiggy's wife, and she's an independent person and that's why I love her." They were divorced in '76 and Thea now works in Portland, but Lander calls her his "closest living relative" and says, "I love my ex-wife very much. I've seen her three times in the past three months. I hope and pray we are friends for the rest of our lives." His new house in Hollywood makes him worry, he jokes, whether "this is some kind of commitment. Do I have to raise this house? But it's modest. If it were a person, it definitely would not brag."

The more settled McKean has also recently invested in a home, his in middle-class Studio City, where after work he likes to "wander around the house in my bathrobe as kind of a creative outlet." His wife, Susan, he says "was very considerate about delivering our son. She went into labor on Sunday--my day off." Pop beams, "It's the best thing I've ever done that had a title on it."

McKean and Lander still aren't used to the Tuesday Night Fever they've helped create. When McKean's garage mechanic recently refused to accept payment for a repair, McKean wanted to say, "Why didn't you do that for me when I was poor?" Lander, even while he hopes for a Lenny-and-Squiggy spinoff of the spinoff ("There's so much more to the characters that we could develop"), is also fuddled by stardom. When a fan came up to him not so long ago and said, "Hi, David," he was stunned by someone knowing his real name. "Do... do I know you from school?" stammered Squiggy. "No," said the fan. "You're on TV."